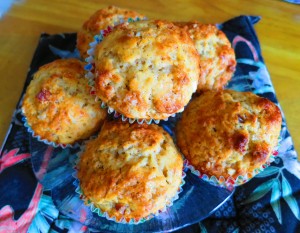 Preheat oven to 400   Butter or Pam muffin tins with 12 sections
Sift together:
2 cups organic flour ( I like to use 1/2 cup barley flour)
3/4 cup organic sugar
1/2 teaspoon fine sea salt
1 /12 teaspoons baking powder
1/2 teaspoon baking soda
1 cup chopped mac nuts
Melt and set aside to cool: ( I brown the butter for a richer flavor)
1/4 cube organic butter
1/4 cup extra virgin olive oil
Mix together:
1 cup buttermilk
2 large organic eggs (mixed well)
1 teaspoon pure vanilla
Mix dry ingredients into buttermilk mixture. 
Add melted butter. Mix in 10 turns.
Divide evenly in muffin pan.
Cook 18 to 20 minutes or until tops turn lightly brown.