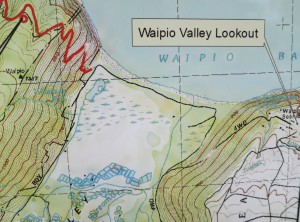 This hike is for when you have a little more time and/or a little more energy. I am going to say this each time I make a post for hiking Waipi'o -"Waipi'o hill is very steep 25% + grade". If you are walking I always zig zag down the hill so I do not blow out my knees.
At the bottom of the paved road turn right. It is a short walk to the beach on a dirt road that turns muddy when it rains. Expect to throw away your once white socks at the end of the day.
The beach is split by a river that flows into the ocean.  The river mouth is rocky and the rocks are mossy so it is best to cross with a walking stick. My option is to walk into the ocean where there is sand and no rocks. Depending on the tide you may or may not get wet. For me that is part of the fun. I always tell guests I can tell how much fun they have had by how dirty they are when they return to the B&B.
Once you cross the river walk to the far end of the beach where you pick up the switchback trail. Part way up are stunning views seven miles to the back of Waipi'o. You can continue up the trail to the top and on to a small waterfall and pond that crossed the path leading to Waimanu Valley. Expect this hike to range from 4 to 5 hours and longer if you stop to enjoy the waves and serenity of Waipi'o.
For the faint of heart at the end of a long days hiking you can take a $5, $10 or $20 bill with you to catch a ride up the hill. Stand at the bottom of the hill and wave your $$'s at any car going up.
Please note: Winter water is very dangerous. I do not recommend swimming in Waipi'o in the winter months (December, January and February) unless you are an Olympic level swimmer.